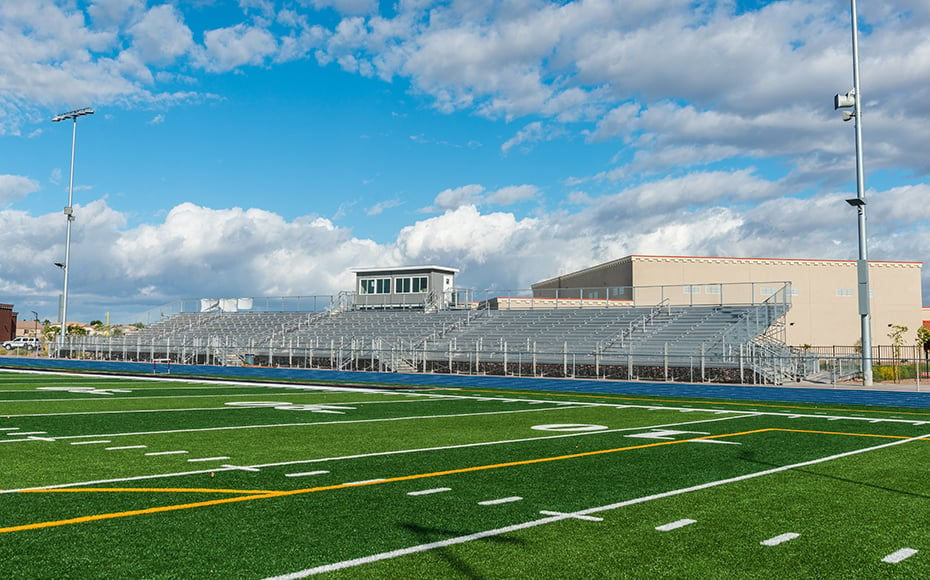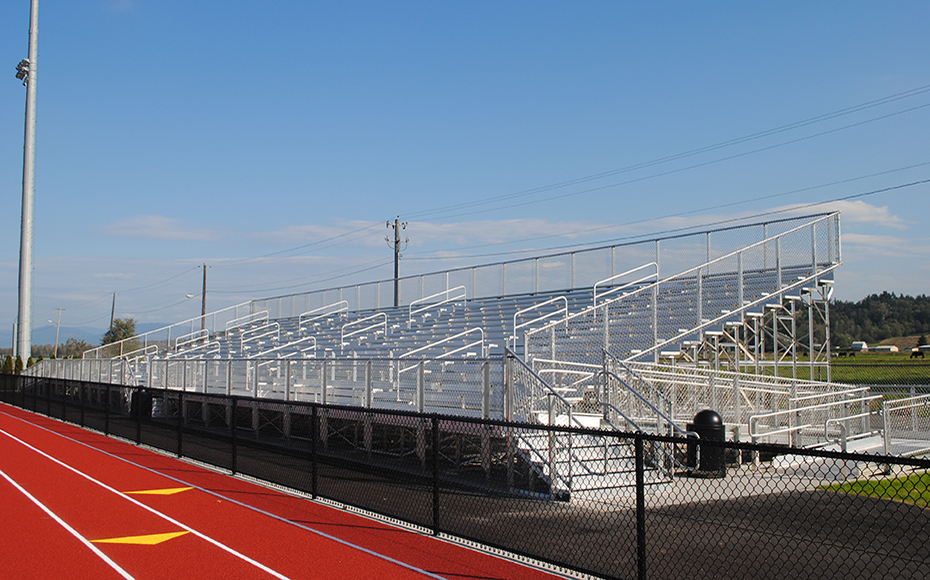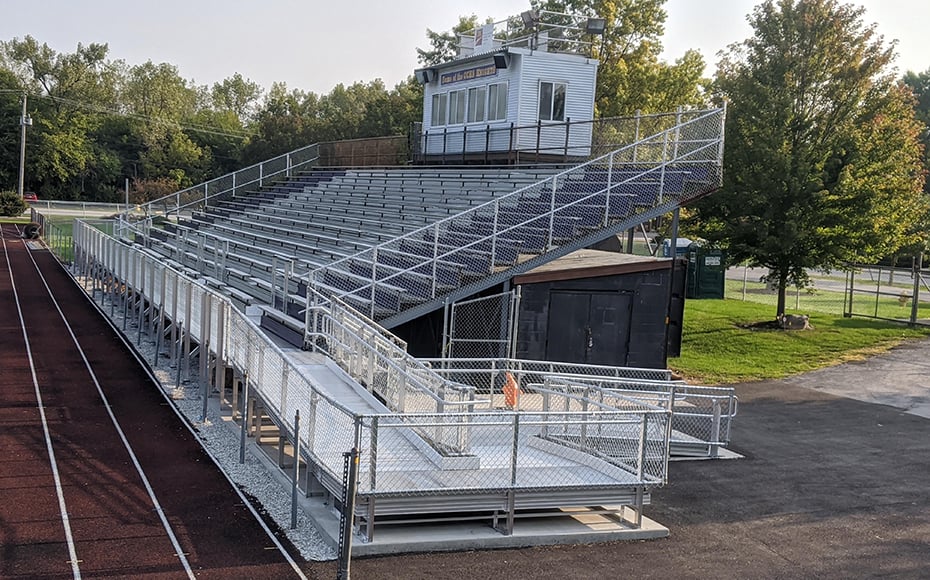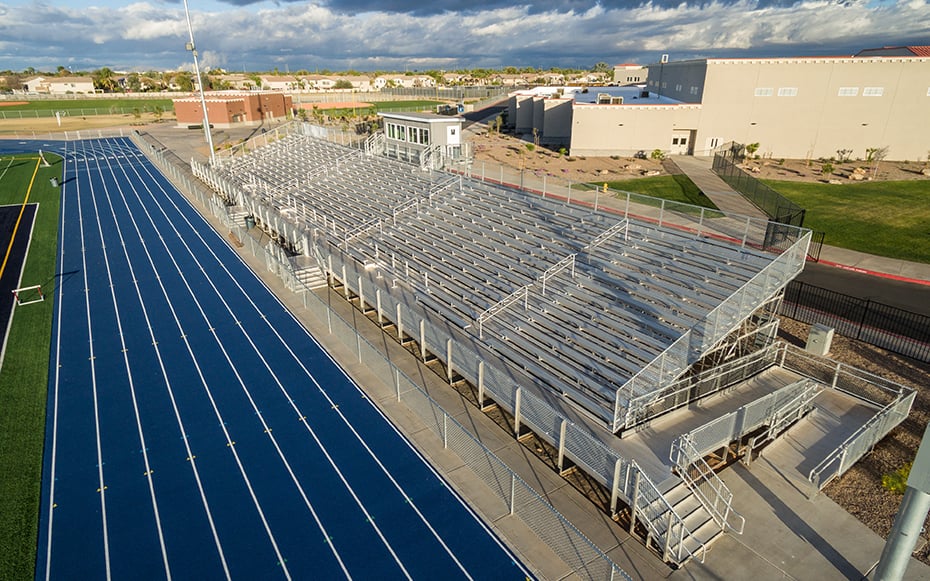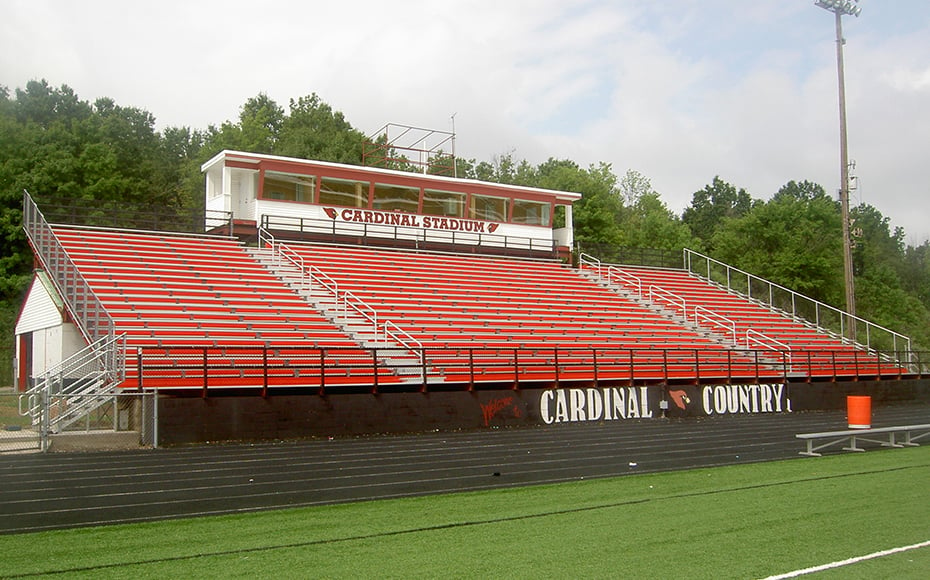 High Capacity Stadium Seating
Our High Capacity Stadium Seating is a unique solution for outdoor bleacher seating requirements. We offer standard series as well as custom-designed bleachers with an extensive number of options.
Bleachers are considered high capacity if they are over 33' long. High Capacity Stadium Seating solves the problem of limited seating space in large venues such as stadiums, arenas, and other outdoor events spaces. With the ability to accommodate a large number of people, these bleachers provide an efficient and cost-effective solution to the challenge of seating large crowds. They are also designed for safety and comfort, with sturdy construction and optional features such as backrests, and contour seats to ensure a comfortable and secure experience for spectators. Overall, high capacity bleachers help to make large events more accessible and enjoyable for everyone.
Types of Elevated Bleachers
Elevated Bleachers are ideal for football, baseball, soccer or other events where elevated seating can greatly improve the spectators' viewing experience. Elevated bleachers include guardrail, aisles with handrail, entry stairs, anodized aluminum seat planks, double (2) 2"x10" mill finish aluminum foot planks and riser plank on all rows to meet building and safety codes. ADA accessible bleacher seating and accessible ramps are also available. Our elevated bleacher seating product is the highest quality sports bleachers available.
Football Bleachers - We have built bleachers for high school football stadiums, college football stadiums, and recreational complexes. We can build football bleachers to provide 102 seats and 4 ADA compliant seats all the way up to 3034 seats and 24 ADA compliant seats. With our elevated bleachers, everyone will have the opportunity to experience the best plays of the football game.
Soccer Bleachers - Some of our customers have asked us to build elevated soccer bleachers for their specific soccer stadiums. We were able to build our elevated bleacher series to their specifications, allowing for the crowd to have the best spectating view possible. Our Bleachers can accommodate 100 to 3000 people.
Rugby Bleachers - Rugby is a newer sport, that is just now coming to prominence in America. We have been contracted to build a few rugby bleachers for rugby facilities. Our bleachers use anodized aluminum planks and are larger than normal to elevate the spectator to an optimized seating position.
Rodeo Bleachers - Our customers have asked us to build a few custom elevated rodeo bleachers as well. We developed a seating arrangement that optimized the viewing experience for everyone around the rodeo grounds. We can build our bleachers to satisfy 106 people up to 3058 people.
Baseball Bleachers - We have built custom bleachers for baseball stadiums at high schools, colleges and universities, and recreational facilities. Our elevated bleacher series is built a little higher to improve all the spectators' line of sight throughout the games.
Our Elevated Bleacher Systems are positioned so that the first row is 5ft off the ground. This greatly improves the sightlines of your spectators and is perfect for larger stadiums and fields.
Sightline Considerations
When planning your high capacity system it is very important to keep sightlines in mind. "Sightline" is a term used in the seating industry to determine the spectator's ability to see the field of play from their seat over the head of the spectator in the brown in front of them.
Sightlines can be enhanced through a steeper pitch of the seating rows, lowering the front row elevation, or increasing the distance of the focal point on the field from the actual seating rows. When selecting your bleacher, be sure to keep sightline into consideration when designing your space. Knowledge of the factors involved in sightline allows fans to have the ultimate experience and clear viewing from any seat!
Seating Capacity for Stadium Bleachers
The standard seating capacity in the bleacher industry is identified at 18" per seat. Although this is the standard, it is not necessarily what customers may view as ideal. It is important to check with local rules association for specific determination of required seat capacities.
As an experienced leader in bleacher systems, we'll guide you during decision-making to improve your facility.
For almost 40 years, National Recreation Systems has been a trusted partner in thousands of projects involving bleachers, benches, and renovations. Our angle frame bleachers are easily reachable and align with your budget and long-term needs.