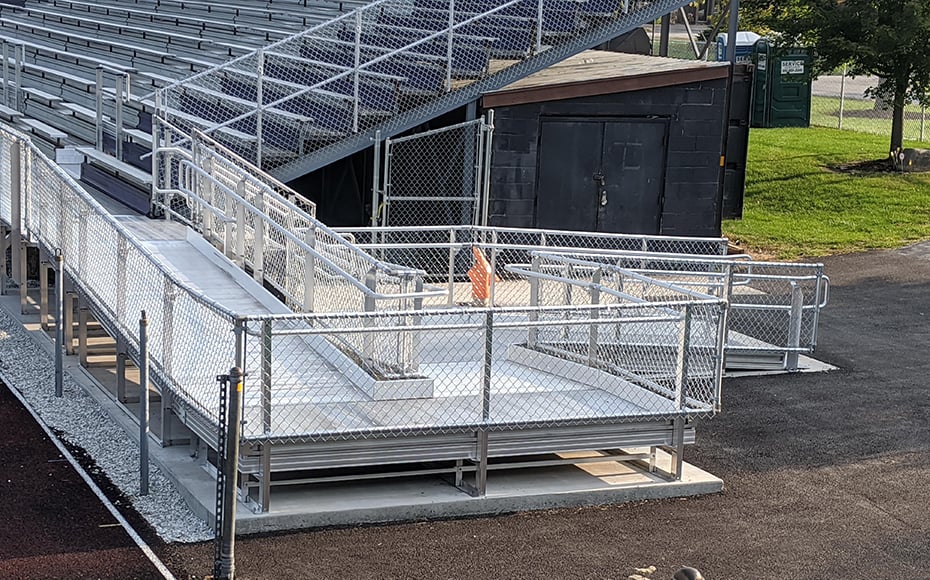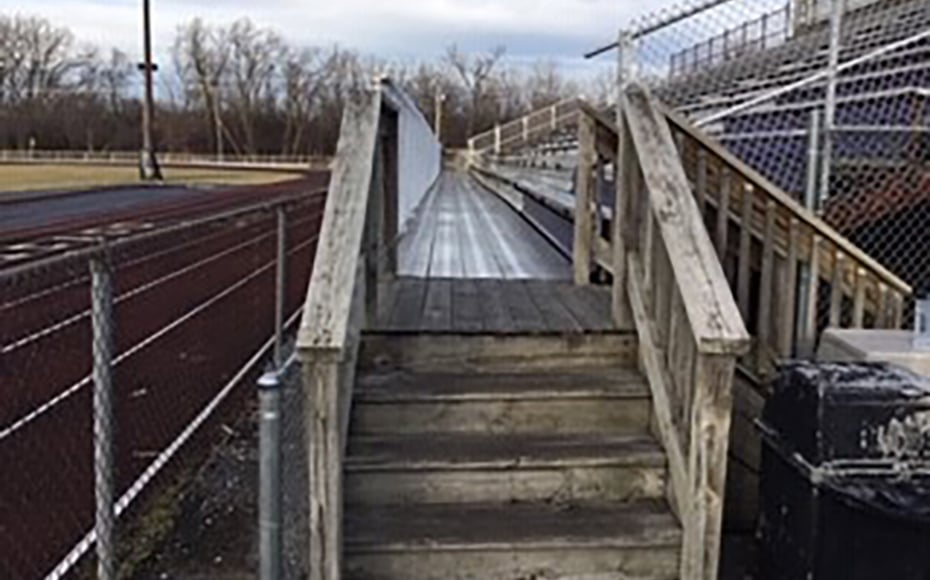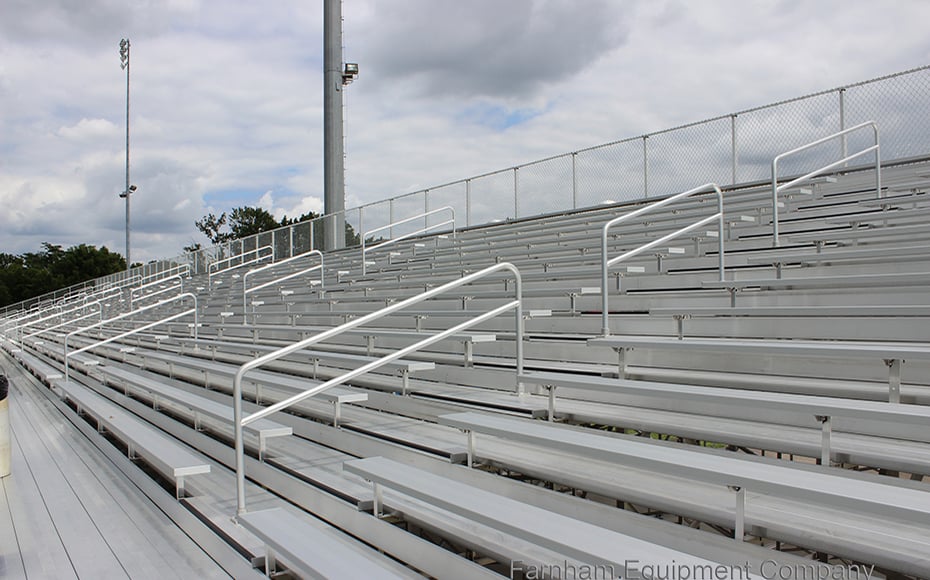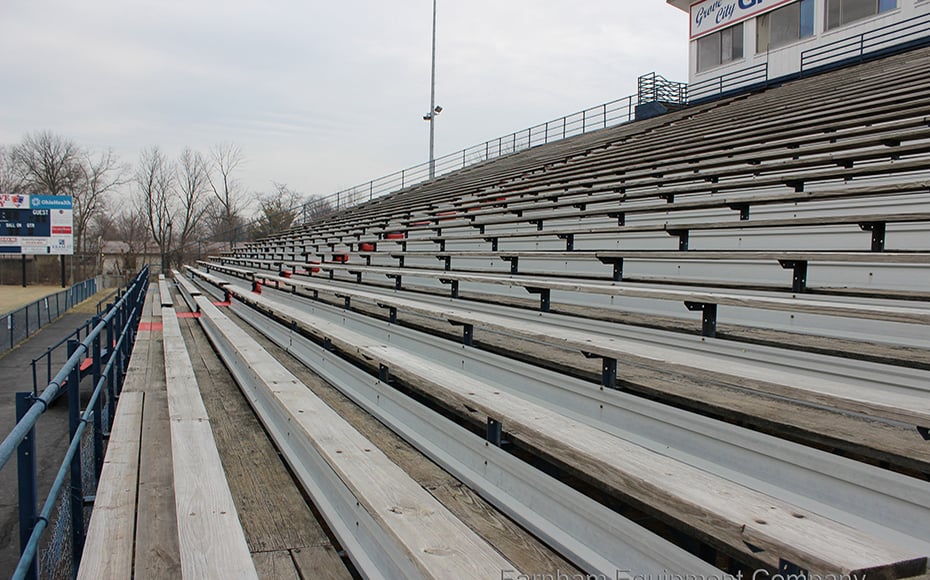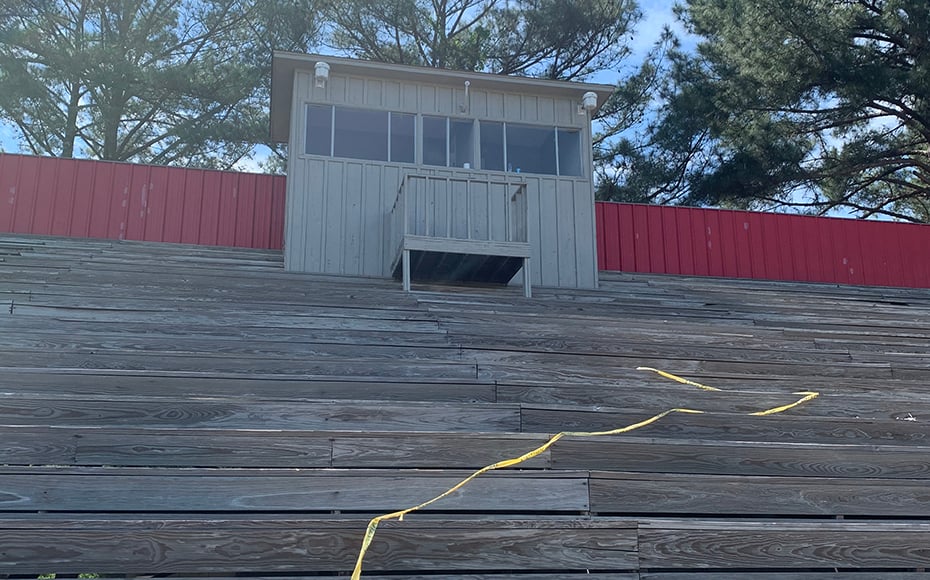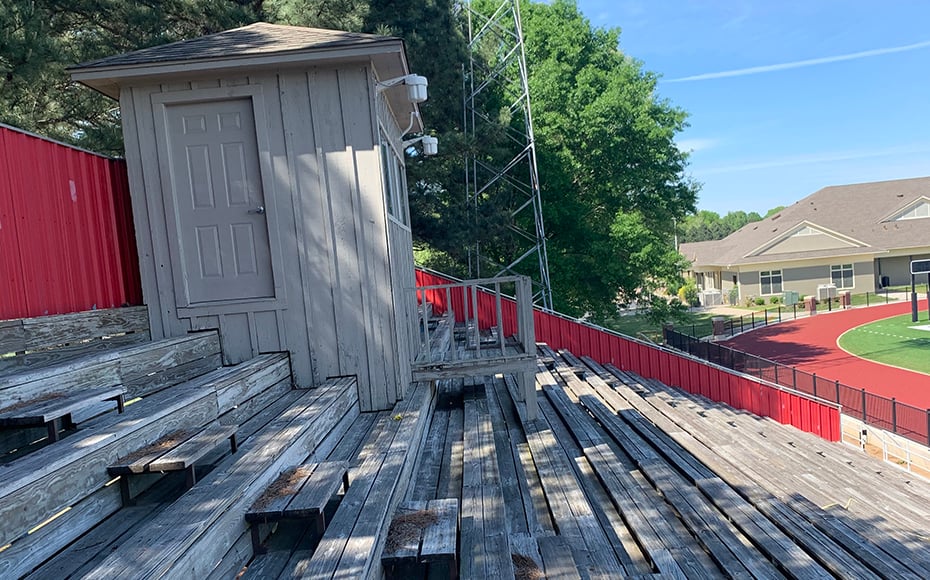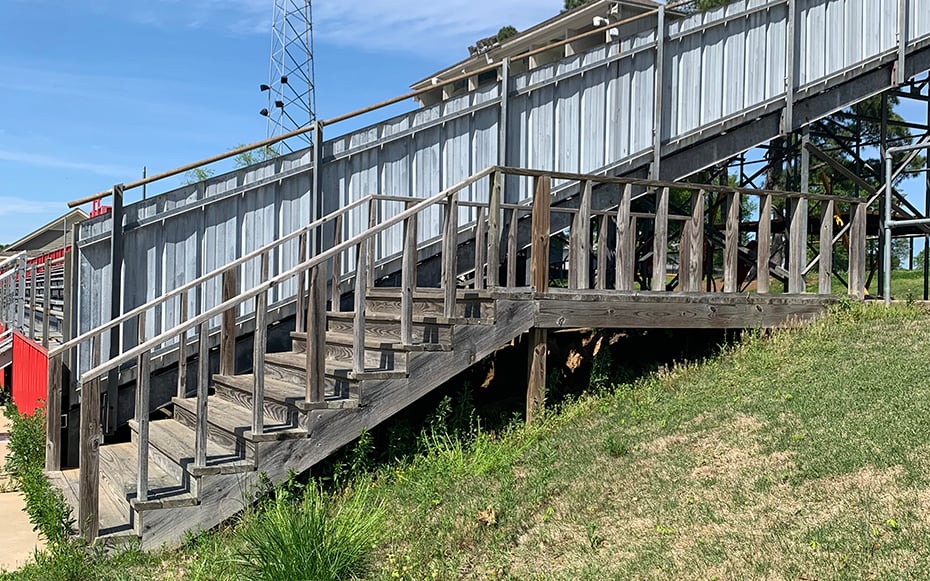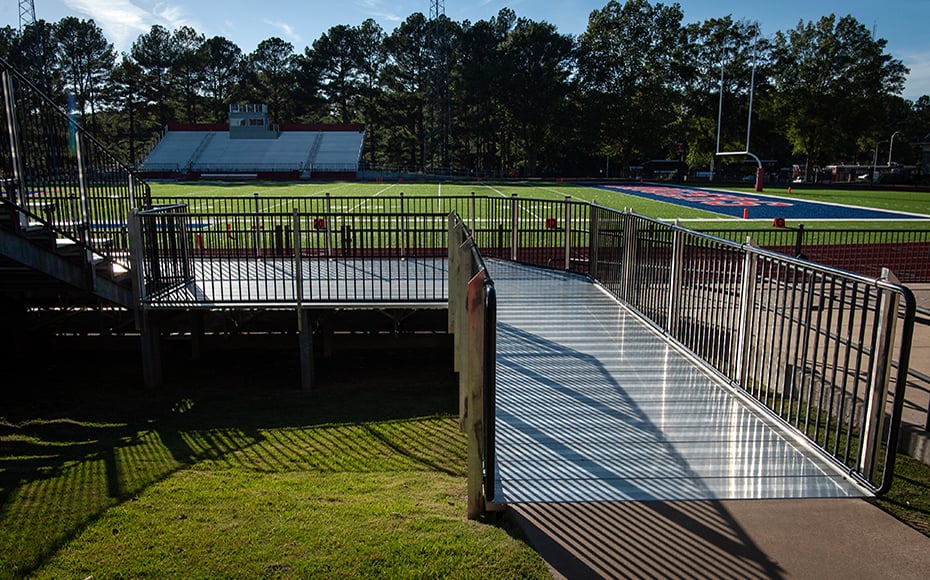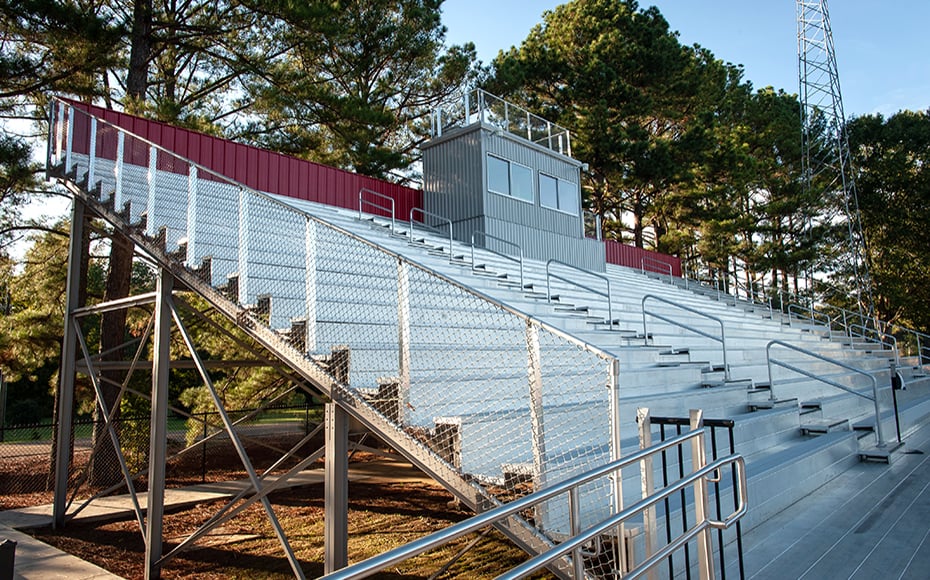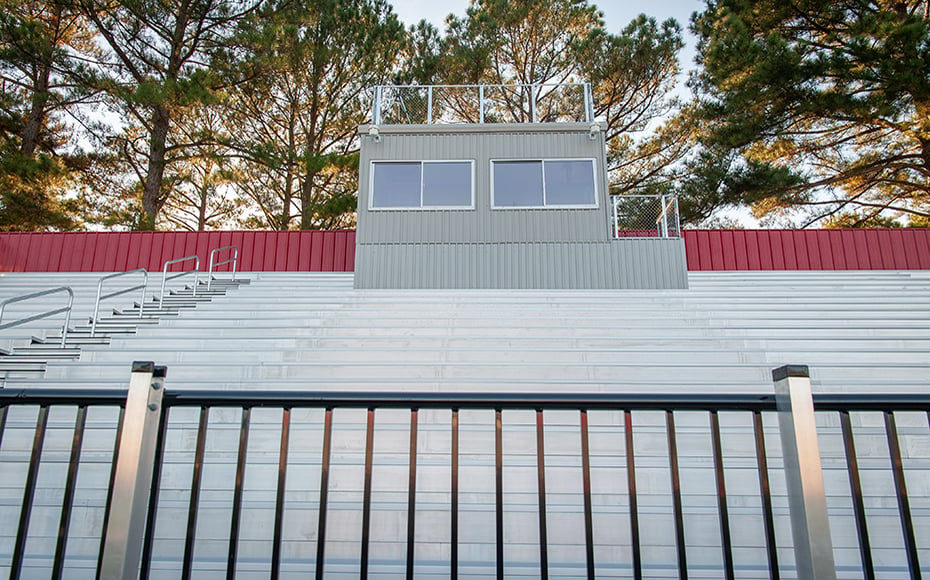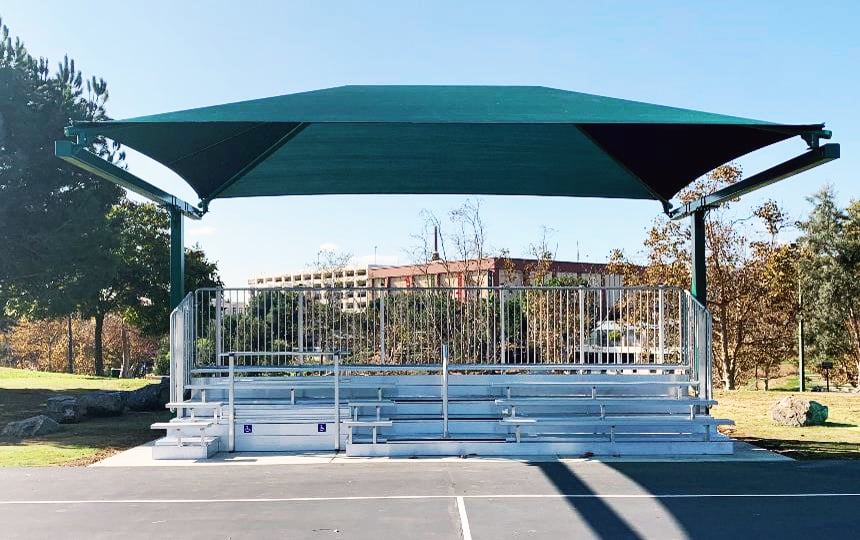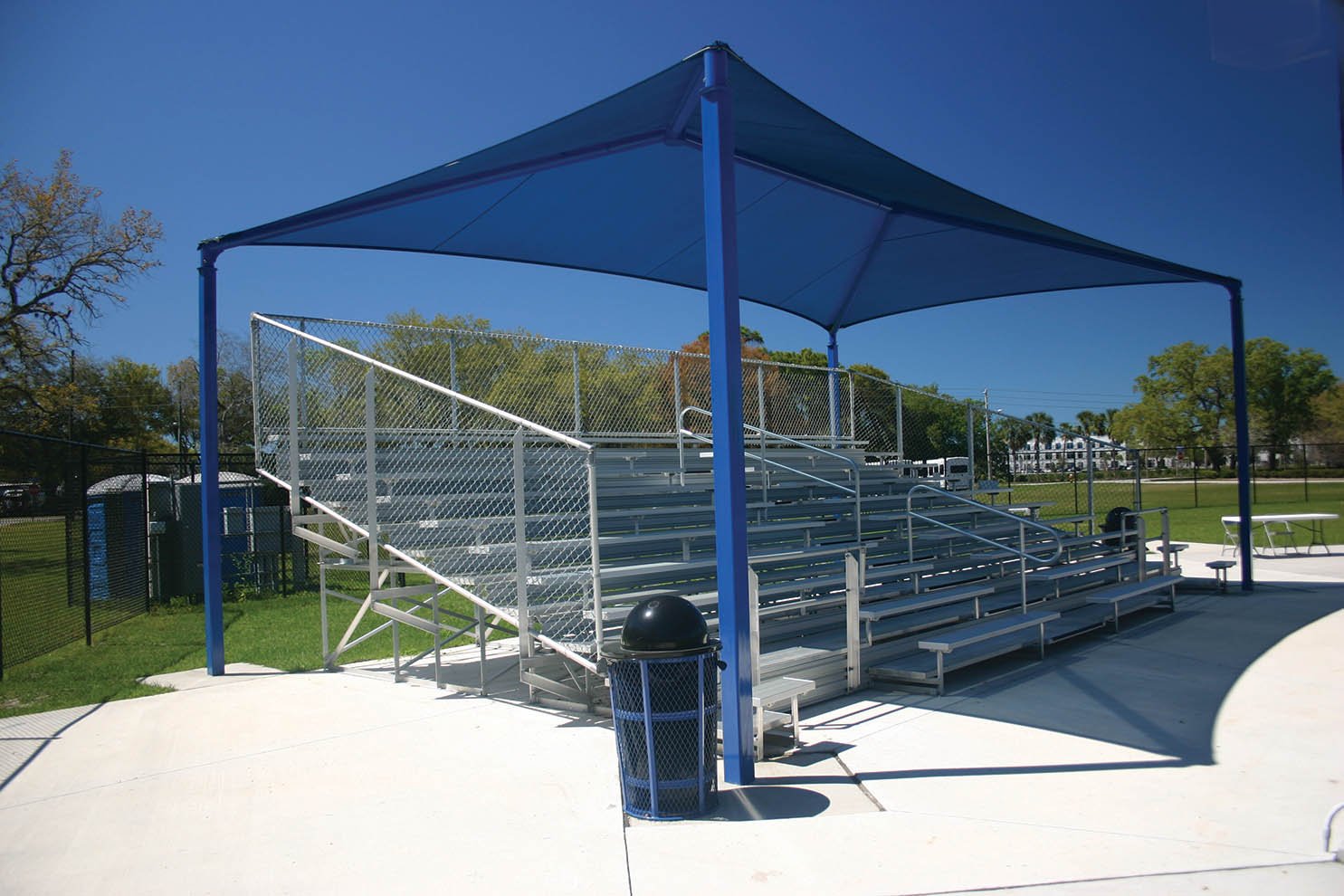 Ways to Renovate Your Outdoor Bleachers
Outdoor bleachers should be a safe place for viewers to watch sports and other spectator events. Broken or weak wooden planks could be a sign that you need to update old non-compliant bleachers to today's building and safety codes. There are ways we can help meet code requirements, while also giving your outdoor bleachers a fresh, new look.
Repair Bleachers with Aluminum Planks, Guardrails or Other Bleacher Parts to Meet Code Requirements
Many unsafe or old bleachers can be retrofitted using the existing framework. Depending on your budget and the integrity of your bleachers, using bleacher parts can be a great way to save time and money in repairs. For example, you can replace deteriorated wood planks with maintenance-free aluminum planks to help close non-compliant gaps.
Ways We Can Help Meet Code Requirements:
Guardrails
Aisles and handrails
Openings closed to 4" or less
Number of exits
At National Recreation Systems, we have every bleacher part and aluminum plank size available. We offer expert assistance in planning your bleacher renovation and have a variety of aluminum plank profiles which provide solid adaptation to most existing understructures.
Let us evaluate your used bleacher system and help you determine what actions are needed to bring your outdoor stadium seating up to current safety codes. To learn more, view our Bleacher Components used in Renovations.
Add Shade Structures Above Bleachers
If your bleachers are fully up to code, you may be looking to renovate by improving the spectator experience. One way to do this is by adding quality shade structures above your bleachers. Protection from the elements means spectators can stay for longer.
Shade Structures and Canopies for Bleachers and Stadiums
Protection from the sun is important while enjoying the outdoors. Integrating shade over your bleachers is a great way to show your commitment to your patrons and your community! NRS has partnered with its sister company, UltraShade by UltraSite, to make this possible. UltraShade offers a wide variety of high-quality engineered shade structures that protect from sun, heat, hail and UV Rays. Many of our sales reps offer shade as well, talk to your representative today!
We recommend two types of bleacher shade structures, the Cantilever Shade and the 4 Post-Hip Rectangle Shade.
The Cantilever Shade
A Cantilever shade is an ideal solution for bleachers. This type of shade not only provides a comfortable shady spot for your fans, but also offers obstruction-free viewing with support posts only located at the rear.
Our cantilever shade structures come in seven sizes:
15x19x12
15x25x12
15x31x12
15x37x12 Double Dome
20x25x16
20x31x16
20x37x16
4 Post-Hip Rectangle Shade
A more simple approach to providing shades over your structure is a four-post square structure. We can install our canopies directly over your football bleachers, soccer bleachers, baseball bleachers, and tennis bleachers. Our shades are made with non-porous polyethylene fabric which allows hot air to rise and escape, reducing the temperatures underneath. Our 4 post-hip rectangle shade structures come in 6 sizes:
15x19x12
15x25x12
15x31x12
20x25x16
20x31x16
20x37x16
The Benefits of Bleacher Canopies and Stadium Shade Structures
Athletic fields and the athletes and spectators enjoying the game benefit tremendously from shade structures. Here are a couple of reasons for you to add an NRS shade structure to your facility!
Your Athletes Will Be Happier – Athletes are out in the field playing the game and working up a sweat. By installing a shade structure for them, you're decreasing the potential for them to succumb to a heat-related ailment. You're also improving their overall experience and encouraging them to continue to play at your facility!
You'll Improve Your Fan's Experience – By installing a shade structure for your spectators and fans, you're encouraging them to stay and cheer for longer. They won't be exhausted from the sun and overall more comfortable!
To learn more about shade visit the Ultra-Site website.
As an experienced leader in bleacher systems, we'll guide you during decision-making to improve your facility.
For almost 40 years, National Recreation Systems has been a trusted partner in thousands of projects involving bleachers, benches, and renovations. Our angle frame bleachers are easily reachable and align with your budget and long-term needs.